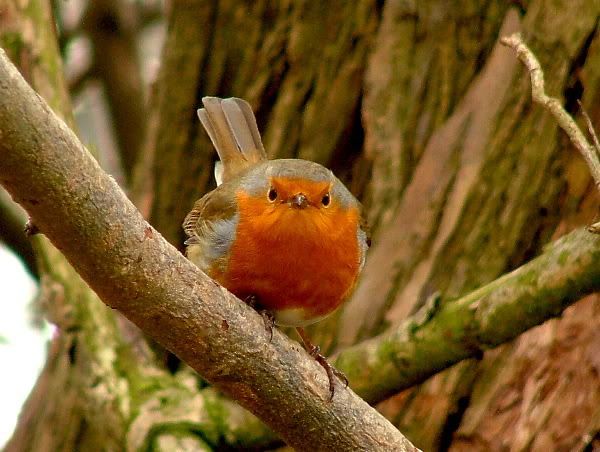 Take part because the testy Robin says so!
Just a reminder to everybody that this weekend (26th-27th Jan) is the
RSPB's Big Garden Birdwatch
- your chance to participate in the huge national bird census the conservation charity organises annually.
Check out the website for more
- an hour is all it takes and time spent enjoying the undervalued wildlife we all have out there the other side of the kitchen window, all of it contributing to the RSPB's understanding of the influences affecting bird populations.
I'll post my results on Monday.
In other news, my birding activities have taken a backseat to the house-hunt for now. As a reward for last weekend's endeavours the girlfriend gave me 30 minutes at the Ogston Reservoir gull roost. Time well spent as one of those lovely mottled marble
1st-winter Glaucous Gulls (like this one)
settled in the ranks.
He'll be an inland wanderer spending the winter feeding at local rubbish dumps, and hatched last year probably somewhere in Greenland. Isn't it wonderful what faraway birds turn up Britain?
Interestingly, a chap told me
the Iceland Gull I saw on the 1st of the month
, is potentially a Kumlien's Gull, the Canadian subspecies and a much rarer vagrant to Britain (1 or 2 per year in my region). The ID differences are small (these gulls have faint markings on their wingtips rather than pure white), and it's a fine judgment I couldn't make for myself with adequate confidence. The reappraisal came from club members at Ogston.
For me, perhaps it's bad birding to dismiss worries over the exact identification but I can live by just letting these things go from time to time. Among all the regular gulls, it sure was a shimmering stunner.