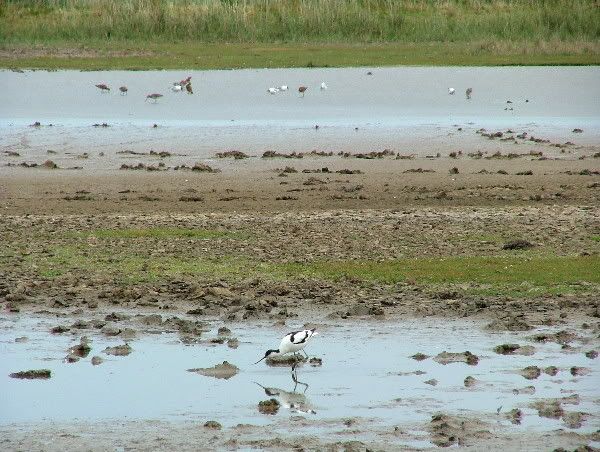 So many birds, so little time to post anything about them.
A very quick round-up of a successful trip to North Norfolk should really include the Sandpipers at Cley -
White-rumped
and
Pectoral
(presumably brought across from North America by the weather system that made for such a warm and windy week at the campsite) , plus a rusty coloured summer
Curlew Sandpiper
. The girlfriend spoke, in a hide packed full of genuine birders, of how all the small waders looked a like. "A variation of a theme", one chap replied. She was a little more impressed when I suggested at least one of those tiny birds hatched not long ago in the Arctic barrens of Northern Canada.


Spoonbills
have been a regular feature at Cley and five were present for our visit, at least one of them a definite juvenile. Well done to any birdwatchers who saw those birds doing anything other than sleep!

Greenshank
,
Spotted Redshank
,
Green Sandpiper
,
Little Gull
,
Knot
and a single
Brent Goose
were the best of the rest at Cley.
Over at Titchwell later in the week
Bearded Tits
were the clear winner. Superb views of a family group and then a lone male, just a little patience along the path and they popped up hardly five metres away. Don't be too quick to get to the hides, is my advice there.
As per usual it was a great site for close views of
Avocet
and
Marsh Harrier
, and unexpectedly out on the beach a raft of eclipse
Eiders
drifted just offshore.
Elsewhere, family groups of
Little Terns
fishing in the channels around Wells harbour will remain memorable, a
Hobby
at Dersingham Bog,
Med Gulls
made a visit to Snettisham worthwhile even if the tide was well out, and the girlfriend enjoy stalking the
Oystercatchers
in the PYO strawberry fields.
Invertebrate life was pretty tops too, but I'll post about that another time. For now, what are you waiting for? Pack up, get Norfolk bound, it's brilliant!
The Eider


The Spoonbills, surprisingly active!