(vid from the girlfriend, check out the birds at beginning and end with the dark bodies and white cheeks)
Birders nationwide will be aware of the big thing that hit us in Derbyshire at the weekend, 11
Whiskered Terns
at
Willington Gravel Pits (DWT)
somewhere by the Trent just south of Derby. Eleven, that's a flock almost three times larger than the previous record and the first of the species for the county since, oh, only 1883! Their usual range dots pockets of south and east Europe, with the
BBRC
recording an average of something like 2-5 in most years since the 50's of this small elegant smoky coloured marsh tern with the attractive white cheek.
Terns on migration tend not to stick around so we zoomed straight from work down the A38 the day after their arrival when 8 were still knocking around, swooping and nipping insects in the distinctive bouyant flight these birds have. Being a county tick for all De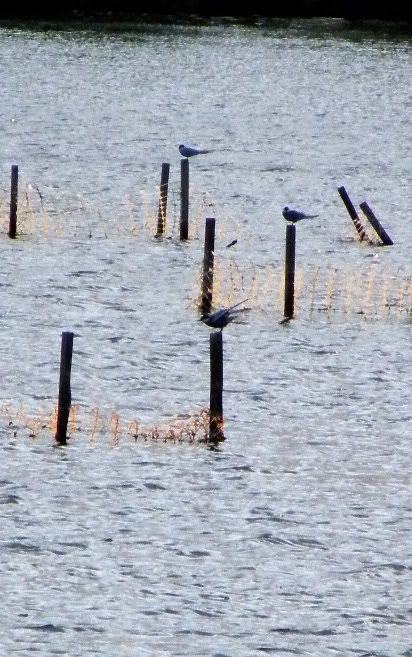 rbys birders and a lifer for many of us in the midlands there was plenty of interest, all of us ever so polite to make sure everybody had time at the front of the small viewing platform and to discuss the unprecedented
wow factor
of the event. Imagine finding them, reporting them, swearing you've not been on the gin.
They've mostly dispersed now, sightings as far and wide as Cleveland, Rutland and Cambridgeshire are probably our terns.
My confession is that I hadn't done Willington before which makes me a bad birdwatcher because it's quickly becoming the best site in Derbyshire. Equally I let the side down by putting work before these kinda birds, bad birding indeed.
Anyway, cracking site, amazing spectacle. Also had L
ittle Egret
,
Lesser Whitethroat
, first
Swifts
of the year and reeling
Grasshopper Warbler
for the evening.
Memorable stuff indeed. That Shrike has a challenger for best personal twitch status.
Back down to Earth there's a very industrious
Coal Tit
in my garden right now. Cool Tit more like it.