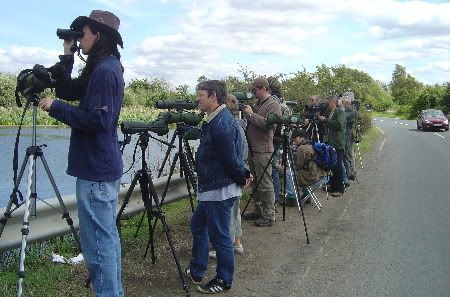 What makes a twitcher? An hour's drive up the A1 to see one (or two) birds? Not quite, I hope.
The destination was
Fairburn Ings RSPB Reserve,
near Castleford in West Yorkshire. We had always meant to visit the place, but never before made it out there - until now. For over a week a pair of Night Heron had been showing really well at the site. Being
the summer of exotic European herons
this was our chance to bag one, and if the
photographs at Birdguides.com
were anything to go by, they posed a straight forward tick - sitting right out, over open water and in the daylight!
It's in the name; Night Heron. Their activities are normally restricted to the nocturnal hours, whilst in the daytime they roost in trees or reedbeds, and so are not always easily viewed. The natural range of these birds usually stretches no further than the Low Countries and their stronghold remains down in the Mediterranean. Yet, here we have two, an adult in beautiful three tone plumage, and a 1st-summer partner that are slightly muddier, making them one very attractive prospect. The reason they wandered into the UK is that they are migratory herons. Unlike our resident hardy Grey Heron, they retreat from the European winter down to tropical Africa, often as early as July. With that sort of large movement, they do turn up in England - perhaps half a dozen or more per year.
We arrived on site around 1pm, joining the ranks of 15 or so other birders, and we all saw nothing for over three hours. We stood and stared at a patch of reedbed and the trees behind, and nothing. Then an inspired find, through the wind-blown gaps of the reeds somebody had found a small feathery patch. Now you needed to find the perfect angle, almost like looking through the eye of a needle, and you could see small areas of the 1st-year bird. A shoulder here, the behind of the head, if lucky the eye or the beak, all of it 30 yards behind reeds already 50 yards away, where the bird was sitting very low in a willow. As a tick, I didn't mind calling it a disappointment. What I was impressed by was the ability of some of the other birders to pick it out, even knowing exactly where it was, locating a scope was far from easy. Oh yes, these guys are good!
After an hour of peeking at those feathery patches, the girlfriend and I decided to investigate the nearby areas of the reserve. Fairburn Ings is a relatively large area of lake and marshland, that looks a perfectly rich habitat for our breeding waders and wintering ducks. Indeed Lapwing, Oystercatcher and Redshank were in decent number, as was a notably large population of Gadwall. My only gripe was the hide, an uncomfortable metal hut that felt not unlike a prison unit. It had large pillars between the locked-open windows and no room to jam a tripod between the seat and the ledge for anybody without a hide clamp. Just a really poor design in comparison to the traditional wooden bird hide.
Back by the roadside, where unbelievably yobs in cars would yell and beep horns at us as they passed by, we were told the immature heron had flown a short distance. That seemed enough for most twitchers who packed up and left. Only a few more determined if less proficient birders remained, hopeful as we were of seeing something better, and we did. The bird was relocated in a creek, showing very well (with a Kingfisher too), to anybody who stood in eye-line through another break in the willows. That meant one viewer at a time, plus somebody tall enough to look over them, i.e. me.
Happily we managed to make sure everybody got a view, and best of all we had a casual birder who brought his smaller daughter to see the heron. She went 'Wow!'. That probably made the coolest moment of the day for me.
By now it was 8:30pm, over seven hours of waiting for this bird, and the elusive adult did not show at all. I read this morning on the sightings websites of 'not present' reports for the herons today recorded at 10:30am. Now come on boys, have a little patience!