In defiance of the weather we headed out for the
Montagu's Harrier
viewpoint mentioned on
Birdguides
, and for all the rain I think we deserved the treat. The RSPB have a small camp set up in a lay-by on a quiet farm road and the nest site is in a wheatfield opposite so for such a rare breeder the views while not exactly close aren't very distant either. Both male and female showed very well, and just before leaving they decided to show off with an aerobatic mid-air food exchange, which made the 90 minutes between sightings well worth the wait. Truth be told they don't strike me as the most stunning of raptors, still their long-winged proportions and buoyant flight make for interesting observation, and the rarity does give them that 'wow' factor.
According to the guestbook we were among almost 80 visitors up until 3pm when we departed.
I know it's probably a lot further off for most other people, nonetheless if you can get there it's certainly one of the bird events of the year in Britain and made #197 for my life list.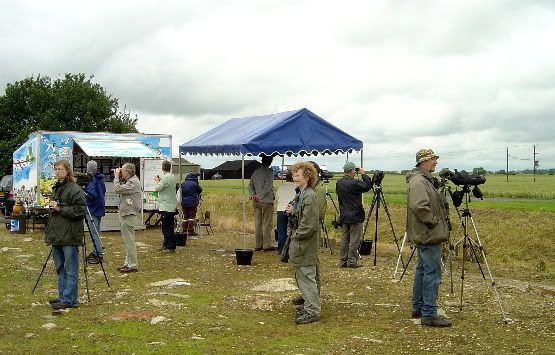 Being remote farmland the secondary species are pretty decent too, a pair of Marsh Harrier were busy in the field opposing field, a Barn Owl quartered over a high bank in broad daylight and making occasional appearances on the telegraph wires was a calling Corn Bunting.
And for the sake of posting a bird picture...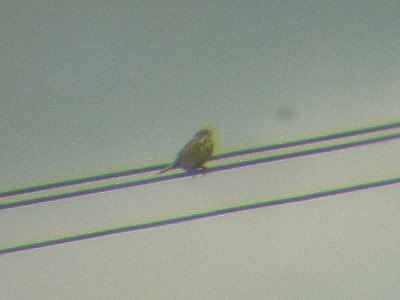 ...a very dodgy digiscope of the Corn Bunting taken in far from ideal conditions.
Now that harrier flight I mentioned. Here's an extract from the most comprehensive book on British birding folklore,
Birds Britannica by Mark Crocker and Richard Mabey
, in which they quote John Walpole-Bond's take on it,
"The normal flight of all these birds is very low, exquisitely easy, usually leisurely and always lovely to look at. They generally proceed by a series of three of four limp, if deliberate, flaps followed on the instant, each instalment, by a brief but beautifully buoyant glide, wings half-raised the while; frequently when hunting, do they quarter again and again the same section of their beat, floating methodically to and fro, hither and thither, light almost at the air itself."

That pretty much sums it up for me.