Goldfinch at Rutland Water

Business took the girlfriend south this weekend, so I tagged along to scour bird site down there I've seldom visited.
She dropped me off at
Little Paxton
mid-morning, giving me just enough time to get around the northern half of the reserve there. The site is made up of a network of older flooded pits and the current sand and gravel workings. Unlike many destinations Autumn isn't really the time to go; in Spring/Summer Little Paxton is famed for its Nightingales (28 singing males in 2006) and in Winter its a good site for migrant ducks like Smew and Goldeneye. So on my visit it was 'quiet', precisely the word used by the chaps doing the
WeBS count
that morning. I could have saved them their time, Wigeon, Wigeon and more Wigeon, write that down!
I did pick up a few Redwing, Meadow Pipits, Pintail and a Herring Gull, for a list that hardly broke 30 species. There were better birds around, a Little Stint elsewhere on the southern side of the reserve, a place I'll know to look in future.
Time came to head back northward and we detoured to Rutland Water, keen chiefly to find better views of the juvie Red-necked Grebe from last weekend. True enough it was fishing along the same shore, almost doing circles around a paddling fisherman, still far off but in better light. It looked a touch smaller than I imagine, quite significant compared to the GCGs. Also out there was a pair of winter plumage Black-necked Grebe conducting what looked like partial courtship display - head-flicking and synchronised diving.
The sandpipers of last weekend were all gone, indicating what a small window of opportunity migration is for picking up species like Curlew Sandpiper, and otherwise the most notable presence were the 8 Little Egret gathered on an island in front of the Egleton visitor centre. Will they stay for the winter?
Finally on the drive home we meandered through minor farm roads back to the A1, hoping to spot something from the car on the way, and we did. In a freshly ploughed field just south of the RAF base at Cottesmore a flock of 20+ Red-legged Partridge came into view.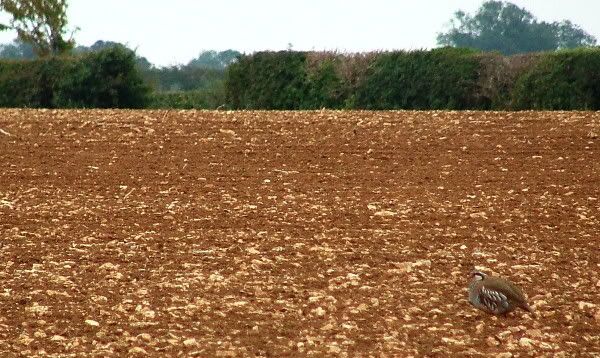 Spot the Red-leg.
Video 1 - Run Partridge Run!
Video 2- Very distant fuzzy Black-necked Grebe
As for tomorrow, I'm at Carsington for another ABB! event and, lord, does the weather look awful. The weatherman, he talks about inches of rain.