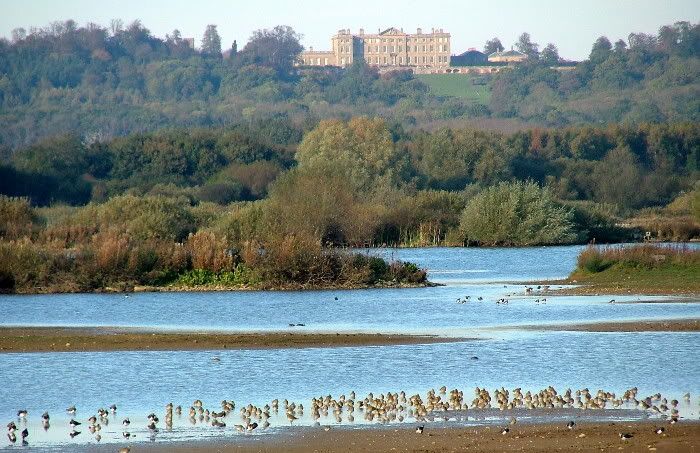 Golden Plover below Hambleton Hall
Yesterday the girlfriend went down south on business again, giving me chance to get dropped off at Rutland Water and picked up again at the end of the day. Always worth a visit, I didn't find any of the rarer grebes from last time, but I did bag a new lifer, a Goshawk (#203).
The raptor was distant enough to make a glimpse through binoculars suggest Buzzard on size alone, no doubting a Goshawk though when I located it on the scope. Certainly big, all pale below, long in the tail, with fairly broad-tipped wings of not the hugest span (ruling out Peregrine as a contender). Finally some strong slow wingbeats confirmed it was a bird of substance, not an unusually big looked Sparrowhawk - which are much more prone to a weak flapping action when they soar.
Alas, a quick glance around the hide showed only novice birders with no scopes, so I concentrated on confirming ID for myself rather than spreading the news and the Goshawk, always faraway, soon sailed off into the distance over the Hambleton peninsula. Ultimately the find was a bit like the difference between a Carrion Crow and Raven; for all the smaller crows or hawks you check, you just know almost instantly when you've finally found the bigger, more impressive bird.
Not so sure Goshawk are much of a fixture at Rutland, but the great mix of habitat shouldn't make it too surprising I would suppose, especially at this time of the year when some of the birds spread to more open country.
Anyway, I'm chuffed - an unforeseen lifer!
Elsewhere around the reserve it was very quiet for a Sunday and I had many hides all to myself. That way I could sit silently and patiently and got some terrific views of Kingfisher and Water Rail, and in one a Wren sat on the ledge next to me. One of those seldom occasions you find a tick inside the hide. It sure cursed at me too. I was alone but I still smiled, I still laughed to myself,
that's
what birds can do to you. They're all a gift, a pleasure so often coming with the unexpected and this feisty wee Wren being no different.
I haven't posted a day list for a long time so here's the score for yesterday:
1. Barn Owl (heard)
2. Blackbird
3. Black-headed Gull
4. Blue Tit
5. Bullfinch
6. Canada Goose
7. Carrion Crow
8. Chaffinch
9. Collared Dove
10. Common Gull
11. Coot
12. Cormorant
13. Dunnock
14. Egyptian Goose (2)
15. Fieldfare (c.50)
16. Gadwall
17. Goldcrest
18. Golden Plover
19. Goldeneye (c.20 my first of the season)
20. Goldfinch
21. Goshawk (briefly circled high over the peninsula)
22. Great Crested Grebe
23. Great Tit
24. Green Sandpiper (5+)
25. Green Woodpecker
26. Greenfinch
27. Grey Heron
28. Greylag Goose
29. Herring Gull
30. House Sparrow
31. Jackdaw
32. Jay
33. Kestrel
34. Kingfisher
35. Lapwing
36. Lesser Black-backed Gull
37. Linnet
38. Little Egret
39. Little Grebe
40. Little Stint (2)
41. Long-tailed Tit
42. Magpie
43. Mallard
44. Meadow Pipit
45. Mistle Thrush
46. Moorhen
47. Mute Swan
48. Pheasant
49. Pied Wagtail
50. Pintail
51. Pochard
52. Redshank
53. Redwing
54. Reed Bunting
55. Robin
56. Rook
57. Ruddy Duck
58. Ruff
59. Shoveler
60. Snipe
61. Sparrowhawk
62. Starling
63. Stock Dove
64. Stonechat (at least 6)
65. Tawny Owl (heard being mobbed by crows at 18:30)
66. Teal
67. Tree Sparrow
68. Treecreeper
69. Tufted Duck
70. Water Rail (good views of 3 from quiet hides nobody else stopped to look from)
71. Wigeon
72. Woodpigeon
73. Wren (one of which flew inside the Harrier Hide)
The sort of list that describes the broad variety of habitats they have at Rutland Water.
The girlfriend was late in picking me up, one whole hour late actually, so I was stranded in the dark for a while. No complaints from me as along the path I found a Tawny Owl getting grief from a pair of crows, and the tell tale shrieking of a Barn Owl.
Some pictures from the day: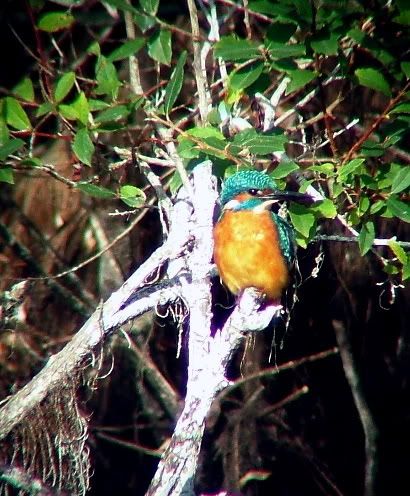 Kingfisher
Green Sandpiper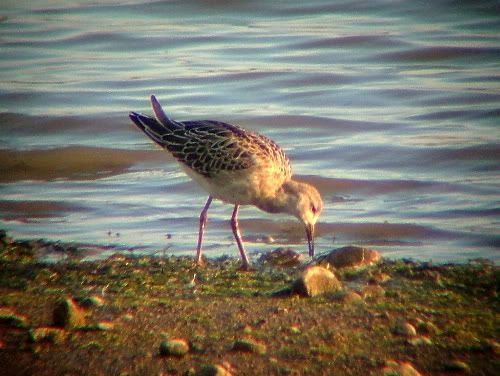 Ruff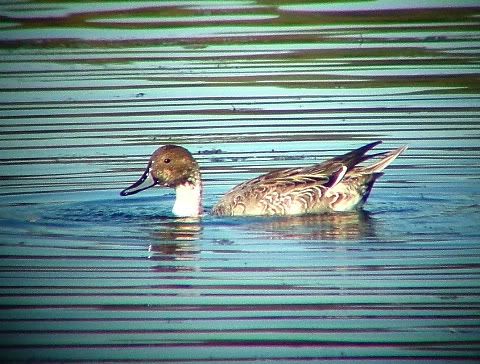 Pintail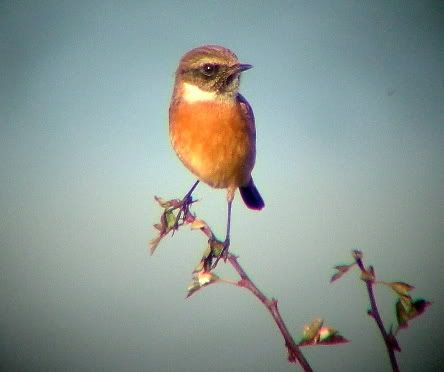 Stonechat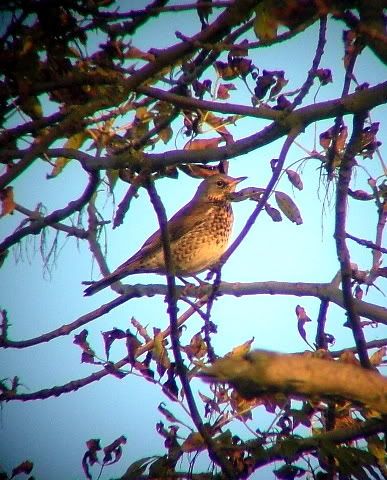 Fieldfare
(All taken through my 8x42s.)


You know, you could do a lot worse than spend a whole day watching birds.
In other news, my mobile phone has given out on me after a noble effort lasting almost 10 years, and I just whacked in a new ink cartridge in my printer. Why do I mention this? The RSPB are still collecting both for recycling/fundraising -
the weblink
- be sure to keep it in mind.