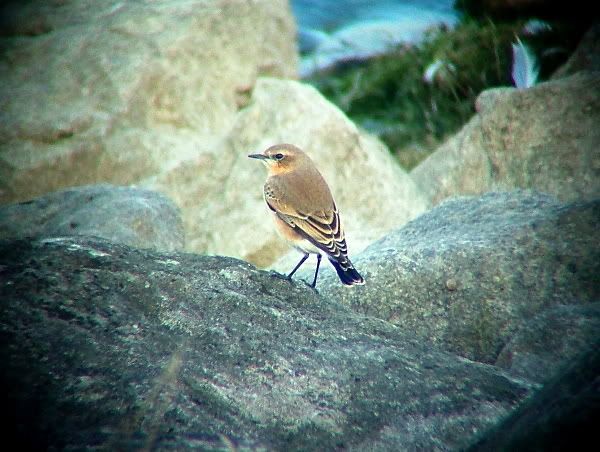 Another free Friday, and more laps around Carsington. Dropped off by the girlfriend I arrived early and promptly spent a couple of hours at the wrong end of the water. Only later when cycling the other side did I learn from the head ranger (evidently doing a TV interview I fear I may bungled into, whoops, sorry and take 2!) about the Gannet that was seen off the fisheries office in the morning. Presumably the same juvenile seen much of the week up on Howden Reservoir in the north Peak District, and that turned up today at
Carr Vale NR
on the Derbys/Notts border. If we're talking about the same Gannet you must wonder how much longer it can keep wandering like this so far inland. I do hope somebody finds the bird should it exhaust itself. That happened locally with an adult bird a few years ago that ended up crash-landing in some lucky punter's back garden. Just try to imagine...
For the rest of the day I picked up the regulars, a male Red-crested Pochard approaching prime plumage after his moult napped in front of the wildlife centre, Buzzards were all over the place, the Little Owl kept to their routine - showing well around the fence posts until disappearing around two in the afternoon, and I did briefly glimpse my first Green Woodpecker at the site.
And
the Cackling Goose is back along with a maximum 42 feral Barnacles.
To explain,
Cackling Goose
is now used at the catch-all term for the species and subspecies of 'Lesser' Canada Geese. So the larger form we're all familiar with are signified as 'Canada Geese' and they originate from within the continental US and Canada, whilst the smaller which in the wild breed on the arctic tundra of the far north of Canada and Alaska are 'Cackling Geese'. For both large and small forms there are several different races, each with their own name, but all ultimately falling under either one or the other of the previous two categories. Got it?
As if to slightly confuse matters more, the goose at Carsington is of the 'minima' race, the smallest variant, which was called Cackling Goose all along anyway.
At the end of the day I rode to and fro along the dam wall to see what would turn up. A good number of Pied Wagtails for the most part, perhaps 50, about half that number of Meadow Pipits, a few Goldfinch and one Wheatear.
Finally, I've figured out how to get the best out of my digi-cam binocular combo, I suppose digi-binning, for want of a better term, hence the shot at the top there.