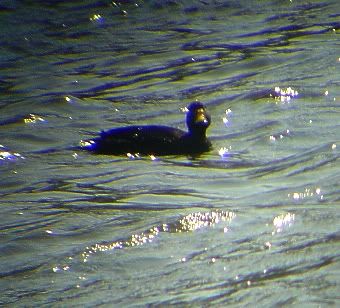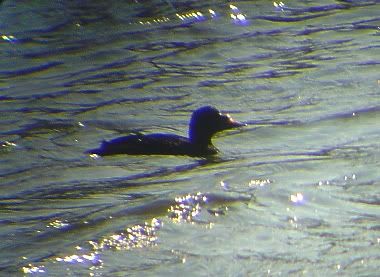 Rough digiscopes, hopefully you can see the impressive structure of the Scoter's bill.
Headed out for that Red-necked Grebe at
Hoveringham
on Sunday to no avail, seems it moved on to the next town along the river. Disappointment was staved off though by the Common Scoter on the Trent, a top bird for the county. As much as they are known to make nocturnal movements over land in the Spring, we just don't see many of them at all. Really handsome ducks too, coal black all over.
Directing other birders to the individual drake was a happy way of breaking the bad news about the Grebe.
52 species for the day, including my first two Sand Martin for the year, a pair of Oystercatcher on the river bank, and a column of 7 Buzzard in one thermal. More bizarrely was a bat, Pipistrelle so far as I could tell, fighting the winds in the broad daylight of mid-afternoon.
And yesterday at the old Pleasley Pit I scored bird #100 for my carbon neutral list. The first Redshank, a pair actually, I've seen at the still developing site that looks more promising for waders with every visit. Meadow Pipit have suddenly become very vocal there, catching up with the Skylark that have been displaying for well over a month.