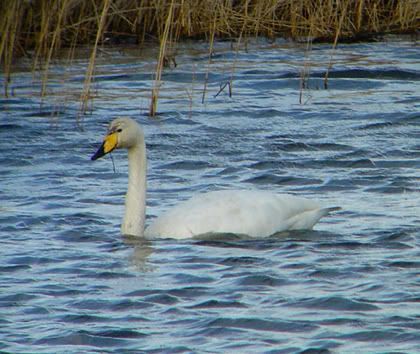 Another visit to
Blacktoft Sands
(East Yorksire) for my girlfriend's last day of freedom before her new job. We hoped for Avocet since several hundreds are apparently wintering nearby on an island in the middle of the Humber. The daytime tides weren't on our side though, and none of the birds felt pushed inland to the lagoons at Blacktoft. Avocet should breed their again in the Spring though.
Still Marsh Harrier always show well there, and a number of local rarities were nice sightings too, including Whooper Swan and Pintail.
The main waders were present, Black-tailed Godwit, Dunlin, Curlew, Lapwing, Redshank and Golden Plover, but nothing special to pick out among them.
Barn Owl are usually a good bet, not on windy days like this one though, and try as we might, waiting until dusk didn't pick one up for us.
Video - Marsh Harrier sailing on the wind
Still, a good day, nice birds, 62 species.