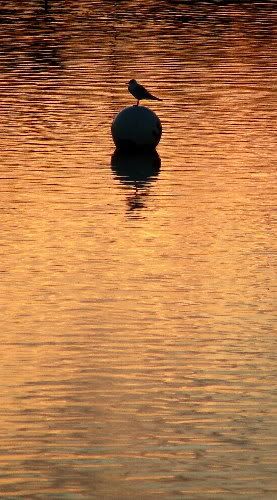 Summery evenings, we hardly knew ye, but now you're back we're determined to enjoy you.
My walk with the girlfriend to
King's Mill Reservoir
was lovely, and promised the possibility of a Barn Owl (more on that later). Surprising really that so few people were out there with us, it makes you want to knock on front doors and invite folks away from their television.
Are you mad, it's beautiful out here?
At the 'res', the bird roosts are already beginning to develop. Up to a couple of hundred Black-headed Gull commuted in late on, and by the reed bed 150+ Coot settled in for the night, with many more elsewhere around the fringes of the water.
Around the hedges an ever moving troop of 20 Long-tailed Tits chattered among each other. I confess I don't actually know that's the collective noun for Long-tailed Tit, I choose it because for me their behaviour always draws comparison with a troop of monkeys searching for fruit in the jungle canopy. Their breeding activities, whereby related non-breeders will help a pair raise their brood, bares more similarity to the forest apes too.
Now a Barn Owl family has drawn whispering attention to King's Mill since breeding was discovered there a couple of months ago. This is the first known record of nesting at the site and according to the reports it's been a great success, with at least 2 juveniles present at the moment. What makes this discovery more thrilling is this territory is relatively urban; you have a averagely large reservoir popular with walkers and water sports enthusiasts bordering on one side, the busy A617 to Newark road on another, and an 'adventure base' for children on yet another, and through all of that dissects a railway line. So this isn't some dirt quiet back road in the wilds of rural Lincolnshire. If only more people knew that Barn Owl could live so close to a large number of people, basically within our conurbation, how much prouder we'd all be of our oft derided and half forgotten district of Nottinghamshire?
Anyway, we watched in the last light of the evening for 5 minutes as an adult swooped along the railway and then off into the wheat field, while in front of us a late calling Reed
Warbler
sung in a small patch of reed bed near the car park.
That Barn Owl, by the way, is 107 for my carbon neutral list. The girlfriend loved seeing the bird, and it soon put at end to the complaints that I refused to let her stay sat by the ducks!
Speaking of Barn Owl, news today comes from the RSPB that the species has been voted
Britain's favourite farmland bird
, by the people who wrote in to them or visited their website. Who could possibly fail to agree?
And for more on Barn Owls in Nottinghamshire try reading the diaries of the
Rushcliffe Barn Owl Project
. Who knows? It may even have been the offspring from their successful efforts that have found a home at King's Mill, though with average young dispersal being around 7-8 miles, I freely admit we'd really be at the high end of their reach.
Wherever they came from, here's to the owls!
Those little monkeys.