As the saying goes, if at first you don't succeed... so this was our second trip to find the Bittern at
Potteric Carr NR
, near Doncaster, and this time we weren't to be disappointed.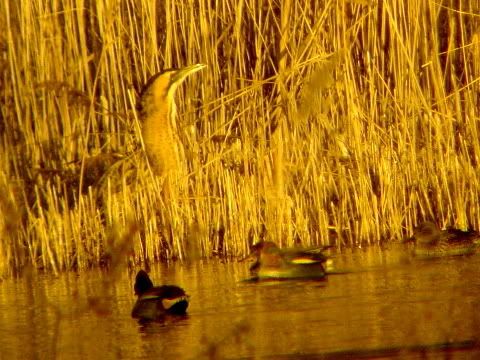 Perhaps it was the birds becoming more comfortable at their wintering site, the calmer brighter weather, or maybe we were just luckier this time, whatever the reason they showed well yesterday, with two different individuals from one very popular hide. A new lifer for me.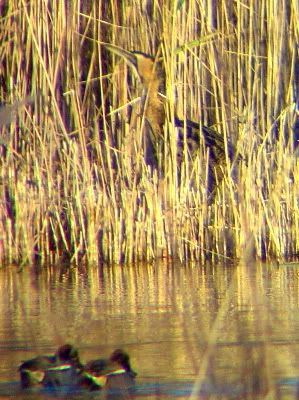 Their famed talent for transformation is well founded, and we watched these birds seamlessly move from streaky egg-shape to towering serpent. It's quite remarkable, and quite typical of this highly charismatic species.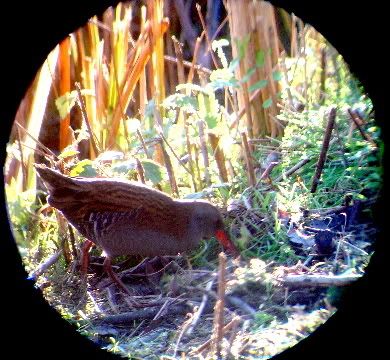 That other elusive bird of the reedbed Water Rail was similarly accommodating, indeed more so. I'd never previously heard of them coming to feeders, never mind seen it, but now I'm a believer. As the tits and finches scattered seed down onto the grass below, the Water Rail skulked and crept from the reeds, out into plain view to peck up the remnants, no more than ten yards from the hide.
On the far side of the reserve beneath the main road into Doncaster, 2,000-3,000 Golden Plover roosted in the afternoon with smaller numbers of Lapwing.
All in all, a grand day out, and just reward for all that Christmas shopping I've had to do with my girlfriend.
Bittern in Winter, Black-necked Grebe breeding in the Spring/Summer, Potteric Carr is quickly becoming a must-do for the northern birder.