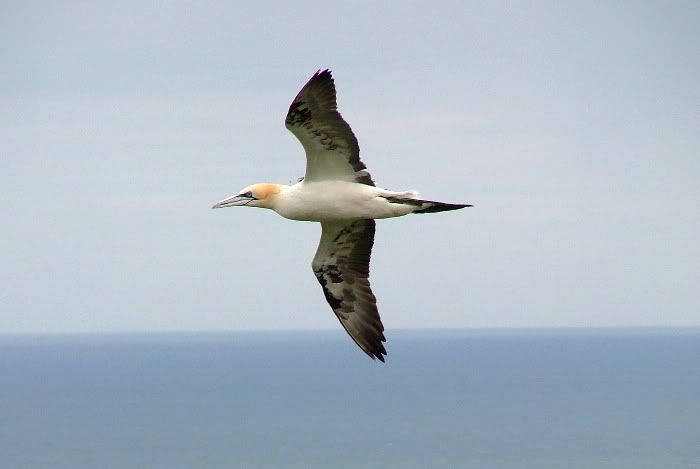 Super busy at the moment so this post must fly by almost as quickly as my holidays, both the family shindig up in Bridlington and the week's camping in North Norfolk.
Birdwatcher or not, a holiday to the East Yorkshire coast really does demand you devote one day to the
RSPB reserve at Bempton Cliffs
. Over 200,000 birds nest on cliffs over 100m high, and the whole cacophany that erupts from that sheer mass of life makes it an inspirational place, inviting philosophy and peace of mind.
Bloody good birds around too.
Gannets
,
Guillemots
,
Kittiwakes
,
P
uffins
and
Razorbills
make up the major numbers, with scatterings of the other commoner gulls. In the meadows behind the cliffs notables during our visit in mid-July included a juvenile
Wheat
ear
and singing
Corn Bunting
- that unmistakable
jangling keys call
.
Back in Bridlington, more Kittiwakes nesting in the streets and more than 60
Turnstones
in the harbour added interest to late evening strolls. Here's hoping they will adjust to the construction of the new multi-million pound harbour/marina recently announced by the council. Fingers crossed it doesn't change the character of the town too much either.
Scenes of the day...
The Wheatear (named for its pale rump visible in flight - wheatear is apparently an old country corruption of 'white-arse')
Finally, a video of a show-off Gannet.
My Norfolk post next time folks.