...visiting gladed woodland, such as the at the
RSPB's reserve at Coombes Valley
(east Staffordshire).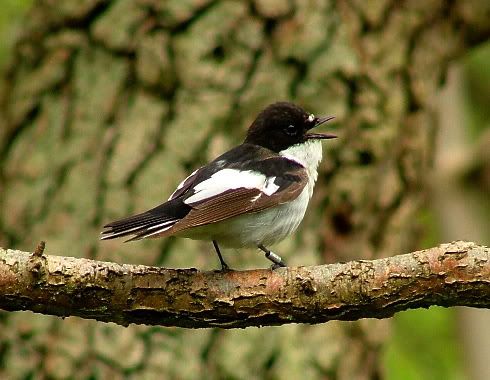 Primarily because the Pied Flycatchers are showing. This one was a lifer for me and what a lifer! In the one hide overlooking a small pond he was closely attending to a nestbox, hardly more than five or six yards left of where you sit. I doubt I've ever seen fewer birds from any other hide, still for me this one still remains one of the very best.
Seemed all the female were on eggs, as we only saw male Pied Flycatcher, at least six different birds.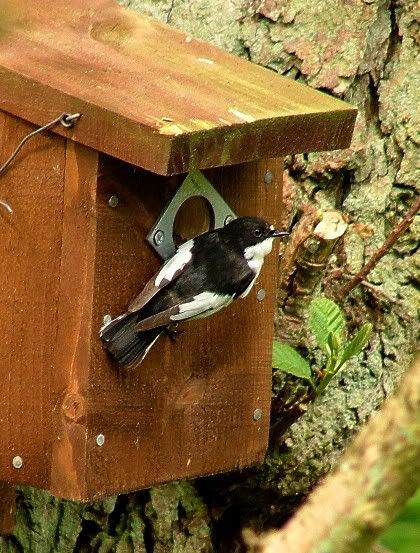 The other species Coombes Valley is famous for at this time of the year is Redstart. They were fewer, or at least more elusive. The best showing was a male hawking for flies on the island in the small pond. The only flycatching of the day, and it wasn't from any of the flycatchers.
Other notables were a pair of Raven being mobbed by Carrion Crows. The size difference so remarkable that at first it appeared to be a Buzzard being guarded away. Great and Lesser Spotted Woodpecker showed only very briefly up among the leaves, though Nuthatch was much more accommodating and even let us see a courtship routine in which one bird fed the other. And in the car park a still very dull chested Linnet gave off a five minute performance of its song.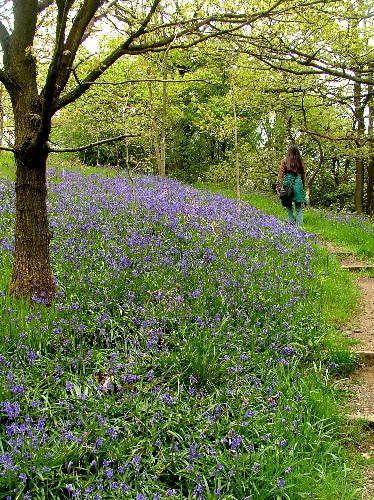 Beautiful bluebell woodlands made the walk a delight.
With plenty of light left in the day we realised Dove Dale was good for a shot on the way home, and thus we detoured, arriving around five, by which time the big Bank Holiday crowds were melting away.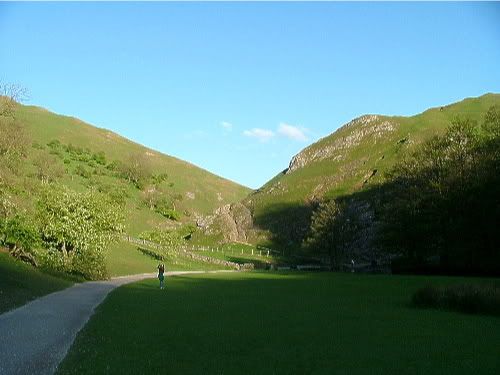 What we hoped for were the Dipper I'd promised the girlfriend. We hadn't found any at Coombes Valley, indeed it seemed unlikely anyone would spot Dipper there when the paths only cross the brook rather than running along it. Anyway, along the Dove we found our target, four or five of them that have clearly been emboldened by the masses that walk along the river during the warmer months. Fantastically close views, within ten yards of that bobbing underwater feeding technique. We even heard their song, a bizarre gurgle, a mixture between the throat warbles of a Blackbird and twisting versus of Reed Warbler. Nothing else quite like it.
Elsewhere on the river we found a Mallard with 17 very young ducklings, a record I defy you to break, and a Goosander with 6 of her own. Close views of her too, the sort you just don't get in the Winter.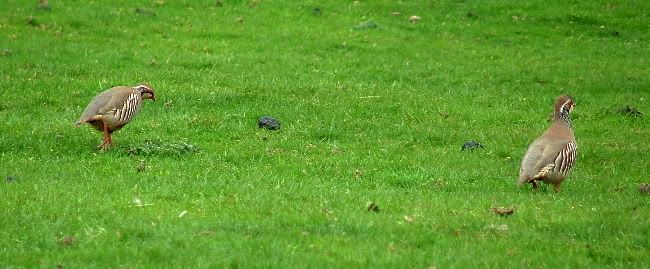 Red-legged Partridge were also around.
At the end of the day the count came up to just 50 species, some real crackers in there though.
Birds thrill again!
Video 1 - Pied Flycatcher singing
Video 2 - Pied Flycatcher singing