Had another free day so again got dropped off at Carsington Water by the girlfriend on her way to work (halves the bird-miles you see). For the ten hours spent there I found 64 species, not too shoddy for a reservoir shared with sailing and fishing interests.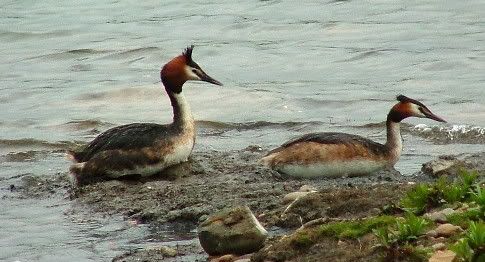 That Grebe is still playing fetch.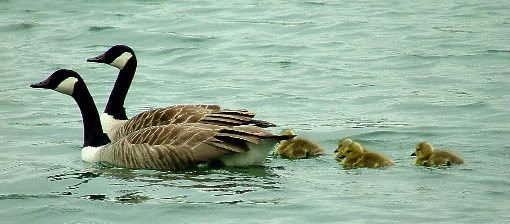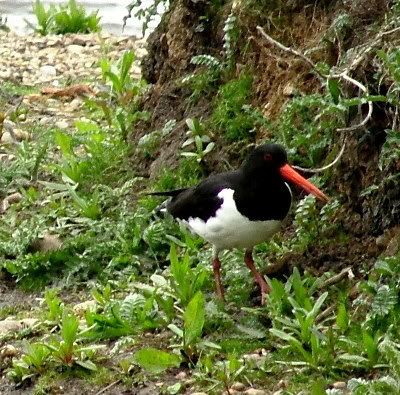 Best birds were the migrants (if no much hoped for Black Tern), a Whimbrel movement is on nationally with one bird present at Carsington, tricky IDing job too since the head markings weren't as prominent as should be, eventually the RSPB guy in there with me agreed it was a 1st-year bird rather than short-billed strong-eye-striped small male Curlew. Also showing in the distance of the middle waters was the odd Arctic Tern with the Commons. Difficult call at that range, I know some people who just call them 'Comics', so I was mainly going on the proportions of the bird - the wings on the Arctic look forward set compared to the Common which have them in the middle. Decent bird on such an inland site.
A Common Sandpiper was about too, plus a few Little Ringed Plover, a Curlew that apparently pops down once a day from the hills to bathe, Raven probably nesting, and the regular summer warblers.
And
the Great Northern Diver is still there! Getting ever more elusive though, all day I got only the briefest view of a bird that was far from shy back in November when it first appeared. Now we're into May, it really ought to think about moving on.
Best moment of the day however went to showing some kids the Curlew through my scope. Their grandparents were already doing a decent job enthusing about the birds, and when the wader flew in with its extravagant bill, it was the natural thing to call them over. The small kids seemed genuinely impressed.
Great birding karma I can tell you!