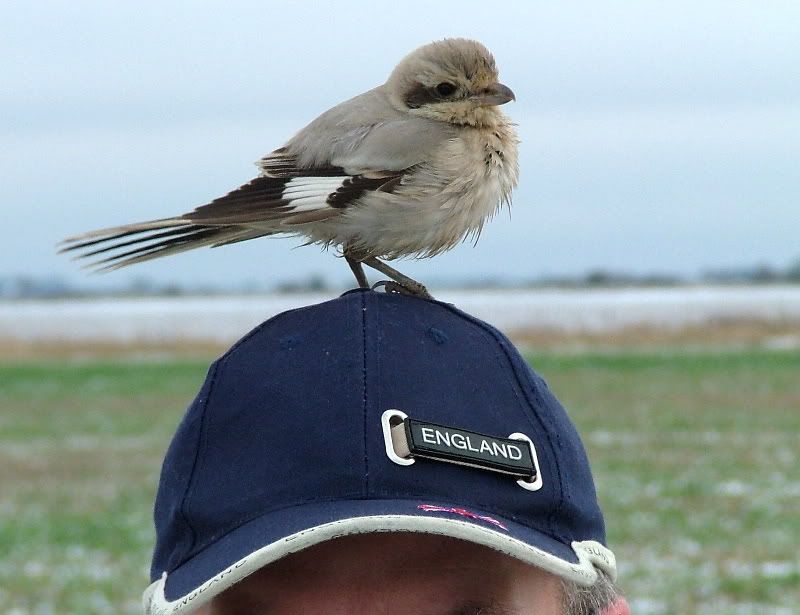 Location, location, location.
Broke my 50-mile local twitch limit yesterday, but surely worth it for one of the rarest and showiest birds to hit Britain all year. Over the last few years I've had maybe half a dozen
Great Grey Shrike
sightings, almost always at a range of 100 yards or so, try to comprehend therefore how it felt to have a
Steppe Grey Shrike
land on my head - I'm still trying myself.
To briefly explain Steppe Grey Shrike is either a different species or different race (in taxonomy terms these birds are rather in the wild west*) to the very similar the Great Greys, just a touch paler in one of two places . We see perhaps 50-100 GGS during the winter in the UK, however the Steppes breed much further east than Greys - from N Iran across to Uzbekistan and should spend their winters in the tropics well east of us. Now human habitation is sparse in these areas so the Steppe Grey Shrike is a bird that should seldom come across mankind and therefore the birds seem to have developed no fear of us. Hence pictures of this one on people's scopes, cameras, cars, heads, etc.
It's only the second or third record of Steppe Grey Shrike in the last ten years, and a real treat still drawing in good crowds into its third week of residence in the Lincs flatlands south of Grimsby. Likelihood is this is probably the most photographed bird.... ever.
In some birding circles concerns raised have been raised over birders and photographers chasing this bird which too high a vigour, but truly it is more a case of the bird following us - maybe it believes we'll stir up worms or beetles. The temptation therefore is to feed it, not something I'd personally want to do - I reason it's been there 3 weeks now and been seen to find its own food which is probably healthier all round than anything people could give it.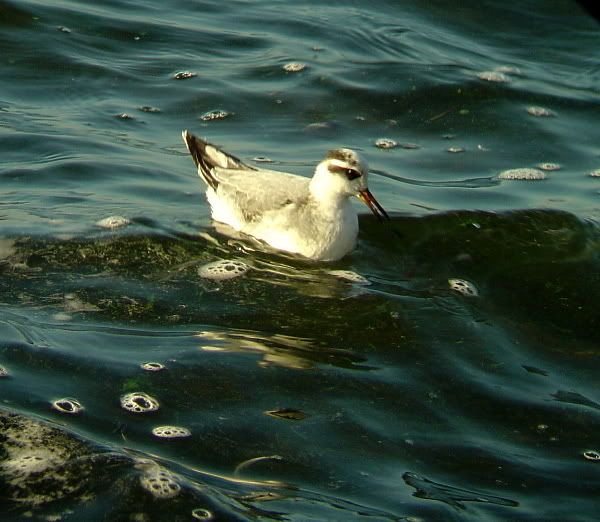 Also picked up a Grey Pharalope at Covenham Reservoir on that long drive home, another highly confiding thoughie.
Rates as the best birding day the girlfriend and I have ever had. Peregrine, Merlin, tonnes of winter thrushes and Curlews, Brent Geese all fly-overs while we tried not to step on the Steppe,
plus a Barn Owl near miss (phew!) on the way back. Videos to post soon.
*technically, the species we're dealing with here appears to be a Southern Grey Shrike