It's been a while since I had the time to update, so in no particular order I'll attempt a few posts to recap the past month, starting with...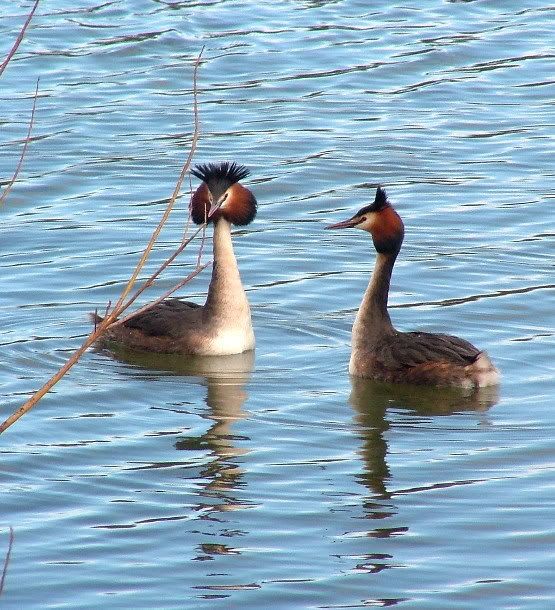 ...another
Carsington ABB(!)
event day.
Forget the
Great Northern Diver
,
Raven
,
Little Owl
and
Curlews
, stunning as they are they made for second billing yesterday, for in front of the wildlife centre - a mere handful of yards from our big window - we had
Great Crested Grebes
deep in courtship, head flicking and weed* waving, the whole divine, unimaginable, shebang which they repeated throughout most of the day.
Our visitors, those who came despite a nigh hysterically bad weather forecast, were truly thrilled. With luck these birds shall nest in the willow to the left of picture (above), however there are complications. After such a beautiful display the pair were chased from the area by a feisty lone individual grebe of their own species, a real spoilsport by any measure - who wasn't above diving beneath the water to nip at the feet of our star couple. The day ended with the one bird snoozing in their place.
So what next for these grebes? Will they reclaim the willow? Can the villain of the peace attract a mate of its own? Will the Coot have the final say on who nests there? The story, as they say, is to be continued...
Elsewhere on the day
Bullfinches
queued in resplendent pink costumes at the feeding station near Lane End hide, and beside Paul Stanley hide I saw my first Chiffchaff of the season. Spring is whispering around the reservoir. Our Tawny Owl remains resident in its tree, one wing again curiously drooped as it naps the day away - it's a real sloucher of an owl we have up there.
During a previous ABB(!) event day, a charming couple told me about the foxes they'd become firm friends with. As they described feeding the animals, the couple themselves recognised the relationship was turning more toward owner/pet than watcher/wildlife, and asked for my advice. I told them that feeding is fine within reason, but failed to be more specific. Well, if you're out there I did a little reading (referring mostly to Chris Packham's excellent book
'

Back Garden Nature Reserve'
) and if you do want to feed your suburban foxes the best practice is to make sure whatever you give them is a bonus and not a replacement for their usual diet. Do it no more than three times a week, putting the food in different places, any kitchen scraps will do. Above all enjoy watching them!
(* it should be understood that an offer of filthy pond weed equals true romance in the grebe world!)