Mostly a garden update this one. All this snow and slipping down in the street has seemed worth it with the feathered visitors we've been getting. The
Fieldfare
has taken up residency for now, a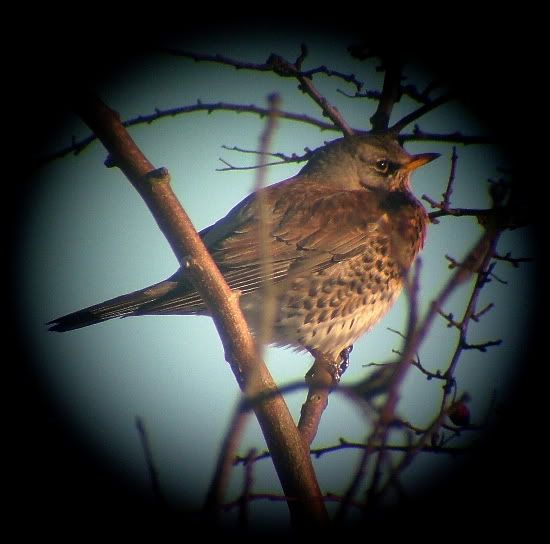 nd the very wee cotoneaster and pyracantha we planted in the front garden last year have scored us a
Redwing
or two. The growing
Reed Bunting
attendance has peaked with around 15 birds at a time, and I pause to type here because a
Mistle Thrush
just landed on the lawn, it's squabbling with the Blackbirds over an apple core.
Extra bit of excitement came last night when closing the curtains in our spare room I noticed a shape in our heavily prune cherry tree. Twas a
Tawny O
wl
, probably looking for the mice and voles that hoover up the seed spill from the day's action on our front garden feeders. The bird stayed a minut
e or two, even looked through the window at me. In the end it swooped into the gloom of our back garden, just magical. Makes species #45 on the garden list since moving in almost a year ago.
Final mention goes to the
Weasel
I saw darting around our patio the other day - another new record for our garden.
Looks like the thaw will set in for a couple of days now, expect we'll be back to normal by the time of the
RSPB's Big Garden Birdwatch
.
As the water is still frozen there's not been much up at the pit lately. The best I can report is a
Great Black-backed Gull
as an overfly down in the village the other day.
In other news, recent findings suggest that
Grey Squirrel impacts on woodland bird
populations far less than previously feared
, although locally they could be bad news for scarcer species like Hawfinch, so we can almost like them again.
The perfect excuse to add a few squirrel pictures to the thumbnails of my recent photographs below...